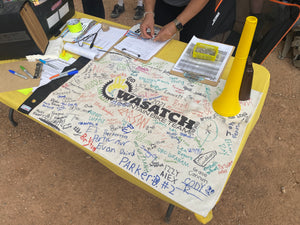 What Do I Do with My Expedition Flag?
I'm so glad you asked! An Expedition Flag can be used in so many ways. Here are just a few:
Take it with you on trips for photos at destinations.
This is the first idea we had when creating Expedition Flag Co. Explorers have carried flags to the highest peaks, the north and south poles, and even the moon. Make your own adventure club with family, friends, your dog, or even just on your own and celebrate making it to a place you've always wanted to see. That place might be 20 minutes away from your own home, but you've never taken the time to go there. Use your flag as a motivator to see some amazing places. 
Use it to mark special firsts in your family.
Your flag could mark the first day of school, college, or a job. The first day of school is a great new adventure. Take a photo with your family flag to celebrate your child's bravery and excitement as they head into the unknown of a new year. This photo would be even better if I'd thought to have him hold our family flag! Next year!!!
Use it for a team or camp to unify participants
When I worked as a river guide in college, they let us sign our names on the inside of the big garage door. It was fun to come back each year and see your own name and the names of people who you had worked with. You can create this same feeling with a flag. Send us your team logo and then let everyone sign it at a team event. This works great for summer camps, family reunions, and more. 
Add patches and pins to it from your adventures and display it in your home.
One of the best things about this way of using your flag is that you know exactly what you're looking for when you visit somewhere. This helps with kids too. When I walk into a national park gift shop, there are so many fun things, but our kids know that we are on the hunt for a great patch or pin for our flag. (Here's the secret: Having this purpose helps eliminate some of the asking for random gift shop stuff that I know won't be used. Shhhh! Don't tell them I told you this.)
This is my nephew who drives semi trucks around the country. He put his flag on a cork board and displays it in his truck cabin. He's added a lot more locations since this photo was taken and I love seeing where he's been. 
Create an Adventure Club for your Grandkids (nieces/nephews/kids etc)
This idea came to us from an awesome set of grandparents. You know how Boy Scouts can earn patches for learning about a certain subject and participating in activities? You can do that for your own family or friends. These grandparents created the Grand Adventure Plan for their grandkids, and each summer they work on something fun together. The kids earn patches for it to add to their flag so they can keep track of what they've done over the years. I want to be them when I have grandkids some day. Check out other great ideas she has for families on Instagram @georgiaandersoncoaching. 
Give a flag as a newlywed gift.
Personalized gifts are some of the best gifts you can receive. I love giving Expedition Flags as wedding gifts, and from the thank you notes I've received back, people love getting them. It's so fun to see your name on a flag and think of all the adventures you're going to have in your life together. 
Display a Family Motto in Your Home
Do you have a family motto, or even a great quote you love? You can put it on one of our family motto flags or even our "just words" flags. It's a unique way to display something important to you. 
We have also heard that our flags have been used as a cape, a nursing cover, and a towel in a pinch. 
How will you use your flag? We'd love to hear!
---