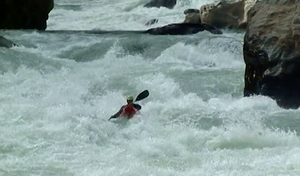 The Exclusive Explorers Club
The first time I was really inspired about the idea of having a flag for our family was after reading the book Hell or Highwater by Peter Heller. It tells the story of a group of kayakers trying to accomplish the first river descent of the Tsangpo Gorge in southeastern Tibet. Because of the expedition's difficulty and importance the group was given the privilege of carrying a flag from the prestigious Explorers Club. This was considered a great honor by the lead kayaker for the expedition and contributed to the motivation to accomplish the difficult task. The expedition required years of planning, the efforts of a large support team, and bravery when things became difficult. It is a great book that celebrates the feats humans can achieve when willing to put in the effort and sacrifice as a team and as individuals. 
I then began to learn more about the Explorers Club and found out that this club's flag had been taken on the first lunar landing with Apollo 11, first exploration of the Mariana Trench, and many expedition-firsts like the Tsangpo Gorge. The goals of the club are to inspire exploration and increase scientific knowledge, and it continues to operate to this day. If you love great adventure stories, the Explorers Club website has some good, brief summaries of famous expeditions.
I have not been chosen to carry the Explorers Club flag...yet, but wanted to do something similar for our family. I want our boys to feel inspired to go do hard things and experience the beauty and lessons that can only be learned from meeting nature in her purest forms. We are gathering experiences together, and our flag is part of that. 
-Max
---