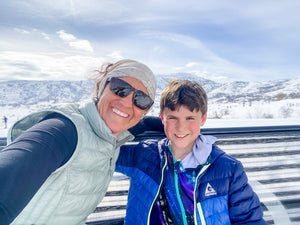 Cross Country Kid Date
We all know that being outdoors is good for us, but sometimes in the winter it sure gets hard to do. I can feel the antsy-ness in myself and my kids when we've had too many inside days. 
This winter I signed up my youngest up for the Kickers and Gliders cross-country skiing program at Soldier Hollow. He has loved it. And what I love is that he is outside after school twice a week, no matter the weather. They had a super cold, windy day. Though the temperature read 11 degrees, with the windchill it felt more like 2 degrees. I just gave him toe warmers and an extra layer that day. It has been snowing like crazy other days. He came home a little damp, but we could dry everything when he got home. They ski no matter what. Other days he's been so warm he's had to shed multiple layers. But guess what? He comes home happy each time because he has been playing outside instead of looking at a screen inside. 
He has been asking me for a couple weeks to come ski with him, so Saturday morning we made it happen. It was a beautiful February morning with blue skies and white mountains.
We skate skied for a good two hours. Want to feel like you're out of shape? Try skate skiing. Wow it is a lot of work, but breathing in the cold air and sunshine felt so good. Because there was a race event going on, we couldn't take a short cut back to the lodge so we basically went all the way out as far as we could on the trail toward the lake and then all the way back rather than cutting through the stadium.
His arms weren't quite big enough to show the long way we traveled--from one end of Soldier Hollow to the other--but he tried. 
By the end we were both feeling the tiredness in our legs and feet, so we finished our Saturday morning date with $.75 grocery store donuts, both happy from being outside on such a beautiful morning. 
Have you tried cross country skiing before? Soldier Hollow Nordic Center offers lots of classes for all ages. They teach class and skate skiing and have plenty of rentals, or you can try out snow shoeing. Winter is so much better when you get outside. I promise. 
---