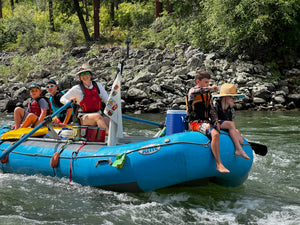 Main Fork of the Salmon Adventure + the Best Camping/Beach item of all time
"Real adventure is seldom planned in advance or laid out in a travel guide. An adventure involves a certain amount of risk. and its outcome must not be too predictable. A trip to Disneyland is not an adventure unless you wreck your car on the freeway while traveling there. For true adventure, you do not buy a ticket and then stand in a line."
- Scott Sorenson, Kipawa River Chronicles
Oh what an adventure we had on the Main Fork of the Salmon River in the summer of 2022. 
As we drove into the put-in outside of Salmon, Idaho, we noticed there were a lot of cars. There's always a lot of cars, but this was A LOT of cars. We had already scheduled and paid for a company to shuttle our cars, and even dropped off the keys. When the ranger told us that there had been rumors of some big problems with a certain shuttle company not delivering cars at the take-out, we were a little disheartened to find out it was the same company we had contracted. But we were already at the put-in with no cell service and not much choice but to hope that the company would get their stuff together within the six days of our trip. 
"Things just work out for me," I told the group, because it has been my experience that they do. "Things work out for me, too," said Mark. With that much luck, we were bound to have a great trip.
Our first day was hot, HOT, HOT! We got into camp early and spent most of our time in the water to stay cool.
There were two other families on this trip besides ours. We've traveled with one of them before and our younger kids get along great. They were immediately playing in the sand together. 
The teenagers were a little more teenager-ish, of course. They chatted, we suggested a card game, but they needed more getting-to-know-you time. That would come...by the last day they were racing each other down the beach and sprawled out on a sand mat playing cards. Also---I've linked one of the greatest camping/beach items of all time, a large sand mat, below!
Sand + water + no screens=hours of play time. This is one of the main reasons we love camping near water whenever we can. This trip was mid-July, the perfect time for Idaho rivers. 
This is my happy place!
This is also me smiling before I flipped in Black Creek Rapid. I haven't flipped a boat since I was a river guide back in college. In hind site, I should have rowed backward into the rapid so I could have had more power to push through the big wave. But I didn't. We flipped. Everyone came up on the outside of the boat and got quickly gathered up by other boats except for me. The tie on my hat got wrapped around one of the oars and I fought to get it off underwater before coming up inside one of the open spaces on the boat. My 13-year old came under to find me and make sure I was ok. It was so awesome to see him kick into action to locate me and help me out. Luckily we had strapped everything down and even put on our flip lines (those pouches hanging on the side of the boat in the photo above), which we got to use for the first time. They worked just like they were supposed to. Boat was flipped back over and the only thing lost to the river gods was my sunglasses.   
A trip on the Main Fork of the Salmon isn't complete with out a stop to Buckskin Bill's Cabin. You can get fresh water, ice cream or popsicles, and a new pair of sunglasses for me all while looking at what Buckskin Bill built and made when he homesteaded the area during the Great Depression. 
A trip on the Main Salmon is also not complete without a stop at Barth Hotsprings. And we lucked out because this was the only time on our trip that it decided to rain. Life doesn't get much better than sitting in an Idaho hot spring in the rain...with 18 of your closest friends.
My 13-year old made this awesome mask from a piece of driftwood. This is the magic of camping and getting away from screens. Creativity thrives. Sadly, he left the mask at our second to last camp, and when you're on a river, there is no going back to look for something. So, he found a second piece of wood and made a similar mask  our last night in camp.
The sand beaches were perfect for CrossNet--for hours and hours. If you've never played
CROSSNET
, it's like four-square mixed with volleyball. What I loved about it that everyone can play and no one is out for too long before getting back in the game. Everyone lined up from the youngest (7) to the oldest. Our friends brought this set, and I immediately purchased one for our backyard when we got home. What's also great is that you can change the height of the net so when my youngest wants to play with his friends who are all under 5 feet, we can make it shorter for them. Here's a link if you're looking for a fun game for your family: 
CROSSNET
And, as promised, the greatest camping/beach item of all time: a CGear 
sand mat
. 
I know a sand mat doesn't sound too exciting, but it really is the greatest. Sand can fall through the mat, but not come up. And it really truly works! I can only recommend the
CGear mat
 that we have used for around 8 years now--same 10x10 mat in fantastic condition. It's the blue one all the kids are laying on here.  We usually put our mat out the front door of our tent and it becomes an extension of the tent--where you take off your shoes (sand falls through the mat making your tent WAYYYY less sandy), pack your sleeping bag up, or just generally hang out. We've even used it to sleep on under the stars. I would say this is one of my number one camping items that we bring on every trip. 
And of course, no adventure is complete without our
family flag
. We have taken our family flag to most of our family trips and it's lovingly adorned with our National Park patches. We love to take pictures with our flag to memorialize these moments, but they also make great outdoor gifts. e
----
And see those kids who weren't ready to play cards together on the first day of the trip. Here they are on the second to last night, shoulder to shoulder, laughing and talking and playing together. This is the magic of no screens, the magic of the outdoors. This is why we prioritize a yearly trip to somewhere with no internet, no phones, no video games, not even handheld ones. Go be outside!!!
----
This post contains two affiliate links. We only recommend items we have used for a long time and actually truly love. If you want to click the links in this post, we get a little kick-back for the recommendation if you purchase. Thanks!
---