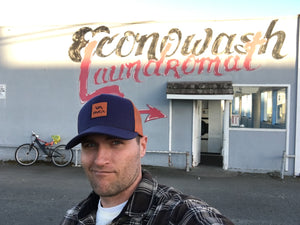 Expedition epic fails...are sometimes the best.
One thing that I've learned about adventures is that things rarely go as planned. This can cause a lot of stress in the moment, but can actually be one of the best and most memorable parts of the experience. One of my heroes is my uncle, Scott Sorensen. He and his wife, Pat, run a fishing lodge in Quebec, Canada in the summers, and Scott is the closest thing I've known to a real mountain man. He introduced me to the greatest movie of all time, Jeremiah Johnson, and I was lucky enough to spend a month one summer as a 15-year-old at their rustic outpost in the Canadian woods. Scott wrote a book titled Kipawa River Chronicles that describes their life and some of his stories. It's a fun read (and available on Amazon as of yesterday--quick supplies are running low. If it's not and you want one, let me know and I'll tell Uncle Scott and he'll send one by Pony Express if he digs one out of his basement). In one of the chapters he writes, "An adventure involves a certain amount of risk, and its outcome must not be too predictable. A trip to Disneyland is not an adventure unless you wreck your car on the freeway while traveling there. For true adventure, you do not buy a ticket and then stand in a line." So there you have it, the best definition of adventure I know of.
Some of the great explorers that have become famous did so not because they achieved the goal they set out for, but because they overcame great difficulty. Ernest Shackleton is perhaps the most famous for orchestrating the survival of his entire crew on his ship, The Endurance, after it was lost to the ice in the waters around Antarctica. While I have not been that heroic, I've had my moments.
I have tried to take my boys on a backcountry backpacking trip as soon as they were old enough to walk at least 5 miles without complaining (too much) and carry at least their backpack with a sleeping bag and food. We started with Jonah at age 8 and then one year later I took both him (age 9) and Wyatt (age 8) on a trip into the Uinta mountain range in Utah. The boys hiked in 7 miles with me to a beautiful alpine lake. We were all set for 3 days of fishing and exploring. Upon arrival, I realized I had left our water purifier pump at home, but being an Eagle Scout I had brought a 10 essentials kit complete with water tablets, so we were still good. We had a great first day and caught some trout which we ate for dinner. We all slept together in the same tent and at about 2 in the morning Wyatt woke up not feeling well. The brook trout he had for dinner had one last upstream swim and ended up in his sleeping bag. Well, he slept most of the night without telling me but the smell caught up to me by sunrise and I spent the morning washing his PJs and sleeping bag in a cold mountain lake. Later that day Wyatt hooked his head with a large fly-fishing streamer that was deep enough I had to push the hook all the way through and clip off the barb to then push the hook back through and out. Wyatt doesn't love to fish anymore. But we still laugh about this now and have good memories of spending the rest of the trip catching salamanders and watching our dog, Scurvy, chase the same bird around the lake over and over.
One year later we were on a family trip to the Redwood forest. On about day 3 we had Slurpees and went to dinner after a long day of hiking. Well, apparently the restaurant wasn't careful about not cross-contaminating food, and Wyatt, who we now knew had a food allergy to trout (and its cousin salmon), apparently got some fish on his French dip sandwich. This we know because in the middle of the night-- with 6 of us squeezed in a tent--cherry Slurpee and French dip came back to visit and sloshed onto several sleeping bags. Well, I got to spend an interesting day at the laundromat listening to two colorful ladies discuss their drug court experiences, while Kate and the boys got to explore the town and the historic lighthouse. Again, not the most dramatic of experiences, but when we remember the Redwoods, we also remember the red flood in the tent.
 Pro-tip: barf bags are an essential when camping with kids.
Way more memorable than any night I've spent in a 4-star hotel (which is maybe twice, Kate says thrice).
---